Actually feeling awake after a good night's sleep.

Bedtime.
Waking up on time after said good night's sleep and feeling all Beyonce-esque because you had time to do your make up at home.



Stepping through the door after a long day and being out of your work clothes and into your house clothes, slipper socks and dressing gown in ninety seconds.
Finding money in the bottom of a bag that you didn't know you had. I'm rich!
Pay day. I'm rich!
Getting to the till only to find the item you've picked up is further reduced than you thought. Winning.
The reduced section in the M&S foodhall.
The knowledge that we'll soon get back that hour back Spring stole from us. Oh the sleep.
A well-received blog post.
Dancing like no one is watching. I am a badass backing dancer while cleaning the house on a Saturday. Totes missed my calling.


Singing like no one is listening. Frozen, Whitney Houston, the high bit in Loving You. I got all the notes.
The cool down after a work out. Like giving birth, you quickly forget the pain and plan three more work outs that week, cos it wasn't that bad.
NB. It was that bad. But you made it.
Seeing the last of an item you really wanted on a rail in your size. Clearly fate.
Cheese. I don't care what you say.
Finally satisfying a craving.


No alarm being set on a day off *snuggles in duvet, sleep-grins to self*


Strictly Come Dancing. Again, come Saturday, I got that Latin ballroom on lock.
The first day of holiday. Even if you aren't going anywhere. You're just not at work.


Those first few hours after a visit to the hairdressers. You are invincible.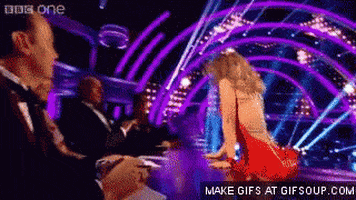 In. Vince. Able.
IN.VINCE.ABLE!